Holy Thursday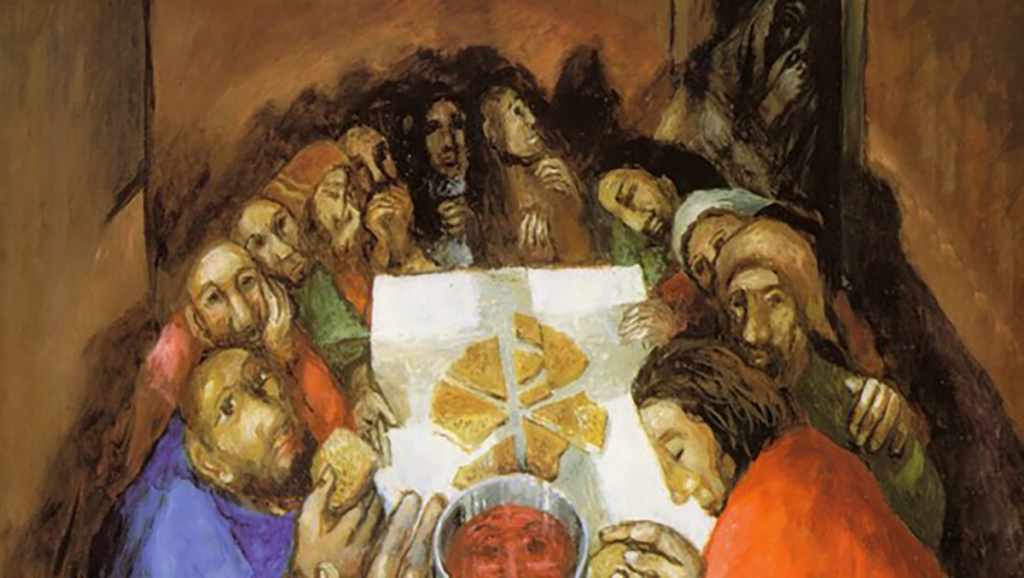 For Reflection
Service is part of the visible identity of a Christian. As an outward sign of God's grace, service offers a new way of living that renews communities: it is a blessing. As the Triduum begins, we are invited again to become the powerful and profound story we remember and celebrate on Holy Thursday. With tenderness and humility, we wash and bind up the wounds of those around us, while also accepting others to walk with us. We eat and drink together in an inclusive banquet. Upending cultural norms of status, power and prestige so prevalent in any society, Jesus calls us to be sustaining bread for one another. How are we caring for those who are thirsty for kindness and for a seat at the table? As we remember the life, death and resurrection of Jesus in the Triduum, we grow towards welcoming and loving ourselves and others as God loves us.
Prayer
Welcoming Blessing by Jan Richardson
 When you are lost
 in your own life.
  
 When the landscape
 you have known
 falls away
  
 When your familiar path
 becomes foreign
 and you find yourself
 a stranger
 in the story you had held
 most dear.
  
 Then let yourself
 be lost.
 Let yourself leave
 for a place
 whose contours
 you do not already know,
 whose cadences
 you have not learned
 by heart.
 Let yourself land
 on a threshold
 that mirrors the mystery
 of your own
 bewildered soul.
  
 It will come
 as a surprise,
 what arrives
 to welcome you
 through the door,
 making a place for you
 at the table
 and calling you
 by your name.
  
 Let what comes,
 come.
  
Let the glass
 be filled.
 Let the light
 be tended.
 Let the hands
 lay before you
 what will meet you
 in your hunger.
  
 Let the laughter.
 Let the sweetness
 that enters
 the sorrow.
 Let the solace
 that comes
 as sustenance
 and sudden, unbidden
 grace.
 For what comes,                                               
 offer gladness.
 For what greets you
 with kindly welcome,
 offer thanks.
 Offer blessing
 for those
 who gathered you in
 and will not
 be forgotten—
  
 those who,
 when you were
 a stranger,
 made a place for you
 at the table
 and called you
 by your name. 
From The Cure for Sorrow: A Book of Blessings for Times of Grief. This prayer is able to be used by permission of the author. All that is needed is an acknowledgement at the end of the prayer of © Jan Richardson. janrichardson.com
Music
Music: Ubi Caritas by Ola Gjeilo
Where there is charity and love, there God is.
Where there is charity and love, there God is.
Related Events