The Social Justice Statements of the Australian Catholic Bishops: 1988 – 2013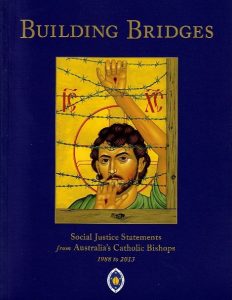 Foreword by Bishop Christopher Saunders
Introduction by Sandie Cornish
Paperback, A4, 303 pages.
Published by the Australian Catholic Bishops Conference, 2014.
RRP $35 including postage
This volume brings together the Social Justice Statements issued by Australia's Catholic Bishops each year between 1988 and 2013. It is a vital resource for anyone interested in the Church's teaching on social justice and its relevance in an Australian context.
In this collection of Statements, the Catholic Bishops of Australia continue in the tradition of reading the signs of the times and bringing the values of the Gospel and wisdom of Church teaching to critical issues of social justice. This work is based on a fundamental truth – that each person, made in the image and likeness of God, is owed the dignity, respect and the conditions necessary to realise their full potential. In calling for political responses and the action of Christian communities to the wide-ranging issues of social justice, there has been an abiding focus on the common good of our society with a special concern for the most vulnerable.