On 1 May the Catholic Church celebrates the feast of St Joseph the Worker. So each year the Australian Catholic Bishops take this opportunity to reflect on issues concerning the world of work. Their letters have addressed unemployment, underemployment, insecure and casualised work, the meaning of work, the quest for decent work and much more. Thus they have developed a body of teaching on work. Furthermore, their annual Pastoral Letters for this occasion offer a uniquely Australian contribution to Catholic Social Teaching.
Dear Friends, I write to inform you of significant changes occurring with the Office for Social Justice and to ask for your continued support for the work of this small office that serves the Australian Catholic Bishops' Commission for Social Justice, Mission and Service. Following a series of reviews and with financial restrictions that are having an impact on all areas of Church life –…
Jesus Christ was a worker – a carpenter – whose teachings and parables evoked again and again the lives of the people among whom he had come to live. He spoke the language of farm workers, fishermen, builders, shepherd and all men and women who toiled at work and in the home for the care of their children and families.

Bishop Christopher Saunders, Forward, Catholic Social Justice Series No 66.
Recent Pastoral Letters on Work
Collections of Pastoral Letters
Two papers in the Catholic Social Justice Series provide convenient collections of the Australian Bishops' Pastoral Letters on work issues.
Pastoral Letters for 1998-2009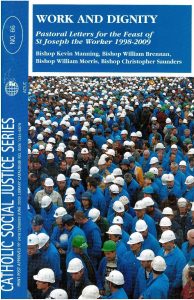 Catholic Social Justice Series No 66 collects the first eleven pastoral letters and includes a foreword by Bishop Christopher Saunders.
Pastoral Letters for 2010-2015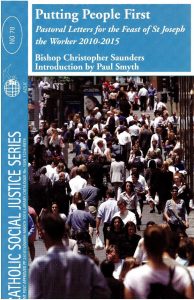 Catholic Social Justice Series No 78 presents the next five pastoral letters and includes an introduction by Professor Paul Smyth.