In a tradition reaching back to 1940, the Australian Catholic Bishops release major social justice statements each year in time for Social Justice Sunday. Through this tradition they contribute to the development of local Catholic Social Teaching. The statements encourage the Catholic community to reflect and act on social, economic and ecological issues. They remind us of the social dimension of the mission of the Church.
Previously Social Justice Sunday was celebrated on the last Sunday in September. From 2020, Social Justice Sunday will be celebrated in Australia on the last Sunday in August.
Recent Social Justice Statements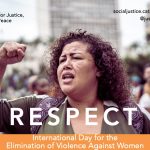 On 25 November, the Australian Catholic Bishops Conference's Office for Justice, Ecology and P…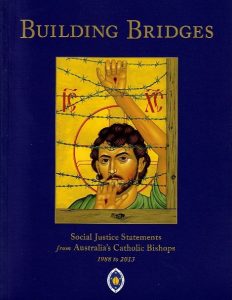 Social Justice Statements 1988 – 2013
The full text of the Social Justice Statements for this period are conveniently collected in one fully indexed volume titled Building Bridges.
Download Statements for 2000 to 2013
Lazarus at Our Gate: A critical moment in the fight against world poverty
The Gift of Family in Difficult Times: The social and economic challenges facing families today
Building Bridges, Not Walls: Prisons and the justice system
Violence in Australia: A message of peace
And you will be my witnesses: Young people and justice
A Rich Young Nation: The challenge of affluence and poverty in Australia
Who is my Neighbour?: Australia as a Global Citizen
The Heart of our Country: Dignity and justice for our Indigenous sisters and brothers
Jesus, light for the world: Living the Gospel today
Peace be with you: Cultivating a culture of peace
A generous heart in the love of Christ: Challenging racism in Australia today
A New Earth: The environmental challenge
A just and peaceful land: Rural and regional Australia in 2001
Woman and Man: The Bishops Respond