Archbishop Mark Coleridge, President of the Australian Catholic Bishops Conference and Bishop Mykola Bychok, the leader of the Ukrainian Catholic Church in Australia, released a joint statement after Russia invaded Ukraine and urge for prayer on 25 March. They call for peace and immediate action from world leaders to end the conflict and reject the 'madness of war'. 
Bishop Mykola Bychok said, "Ukraine is a peaceful nation; we don't want war. An escalated Russian invasion will result in many more dead and injured, millions of refugees, more tears and pain.
"This is a question of life and death as nostalgia for an empire lost has led to senseless slaughter and immense suffering throughout Ukraine."
"We express our deep compassion for the people of Ukraine and our solidarity with all people of Ukrainian heritage here in Australia," Archbishop Coleridge said. "It's not enough to condemn the bloodshed, breathe threats and take half-measures. The entire international community – including Australia – needs to do all in its power to stop the violence.
"This isn't some geopolitical game. Lives are at stake. The lies have to stop. Truth and justice have to prevail if there is to be a future for all of us."
Pope Francis announced that on Friday the 25th of March he will consecrate the countries of Ukraine and Russia to the Immaculate Heart of Mary.
"The bishops of Australia are united with the Holy Father as he leads the faithful around the world in this act of consecration and we invite all people to join us in praying for peace in Ukraine.
"We urge people to spend part of their day on March 25 in prayer – attending Mass, praying with family or friends, in silent prayer at a local parish or chapel or in whatever way you can," encouraged Archbishop Coleridge.
Archbishop Coleridge said the feast of the Annunciation, when the Church celebrates Mary's "yes" to the call of God, is a good day for the consecration, a day when the world says "yes" to the call of peace.
"Next Friday we stop and turn to Jesus the Prince of Peace, who tells us that peace is possible in a world so badly wounded by war in Ukraine and elsewhere," he said.
"Thousands have died, millions have fled and millions more are living in fear. We raise our hearts, our minds and our voices to God for an end to this horrific violence and destruction."
Archbishop Coleridge expressed that like with other crisis "a generous response by the Australian government is needed to help people fleeing violence in Ukraine".
Caritas Australia, part of the church's network of international aid and development agencies is partnering with Caritas Ukraine and Caritas Poland to support refugees and internally displaced people in Ukraine.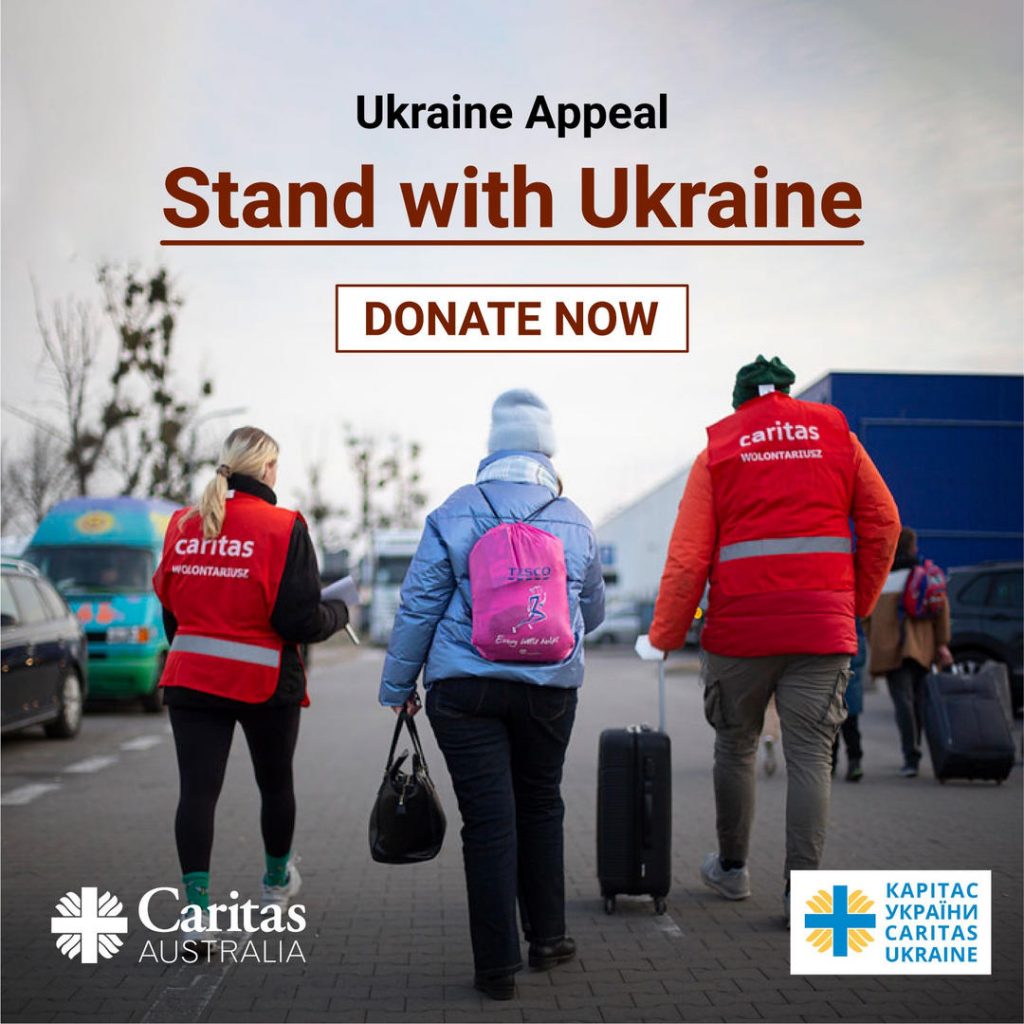 Caritas Ukraine and Caritas Poland are providing direct assistance with food, shelter and care. To support Caritas' work and to see the daily updates go here:
https://www.caritas.org.au/news/latest-news/ukraine-latest/
This website has daily updates and uploads directly from the field including this video from a diocese in Ukraine.
Read the Bishops statement is here in full here:
https://www.catholic.org.au/acbc-media/media-centre/media-releases-new/2343-bishops-call-for-peace-in-ukraine-generous-australian-response/file
Prayer for Ukraine which can be used on the 25th of March is here: