The Australian Catholic Migrant and Refugee Office and the Office for Justice, Ecology and Peace held an online prayer service on World Refugee Day. Over two hundred people registered to be part of the prayer service and it was also shared through Facebook Live. The two Offices have also combined to produce resources to encourage the celebration of Refugee Week 19-25 June.
You can access the prayer service's:
Other resources for Refugee Week including a fact sheet on CST on asylum seekers and refugees and an outline of advocacy by the Australian bishops in recent times is here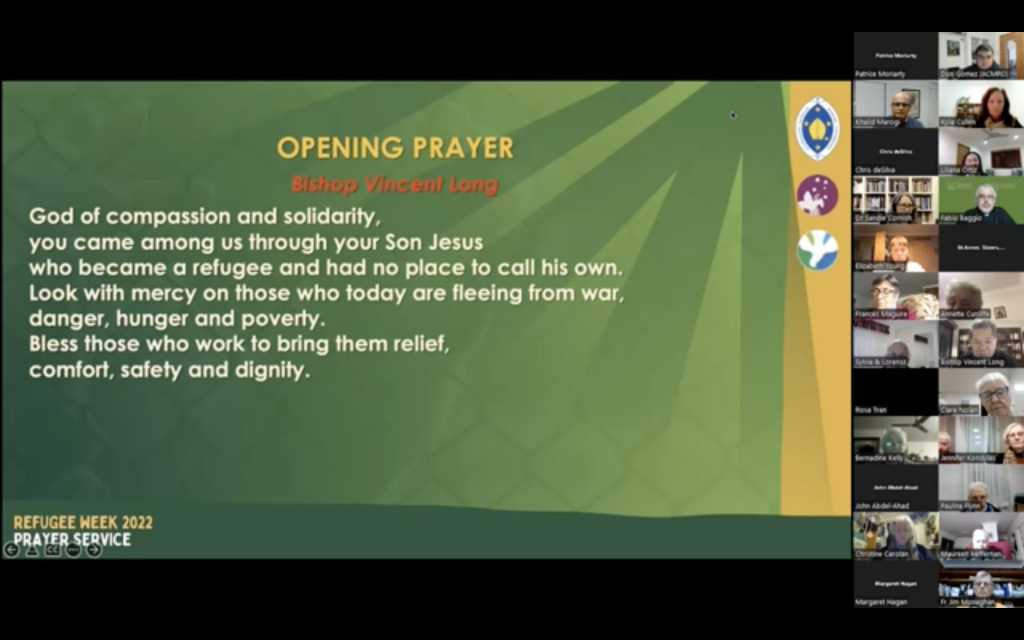 The theme for Refugee Week 2022 is healing. As the Refugee Council of Australia reminds us, "healing can occur through storytelling, through community and also through realisation of our intrinsic interconnectedness as individuals". The online prayer service engaged these elements by gathering the Catholic community, telling stories through the medium of video, and praying together as sisters and brothers in Christ.
Find out more about Refugee Week and events near you here.
The prayer service began with a video sharing Lulu's story of seeking asylum and gaining recognition as a refugee, and Tim's story of welcoming and advocating for asylum seekers and refugees. They help us to get behind the headlines to understand the human experiences that are often masked by fear-driven policy debates. Both stories are stories of faith and family. 
A brief explanation of Catholic teaching on refugees and asylum seekers is offered in online and printable formats. We are reminded that the Church "has a bigger view of the world than any one country" and does not "view asylum seekers and refugees primarily through the lens of legal status". Instead, "we see asylum seekers, refugees and migrants as our sisters and brothers, members of one human family" and "our starting point is not defending borders, but rather defending the dignity of the human person from conception to natural death". 
The resource also includes links to Church documents that encourage and provide guidance for pastoral action to welcome, protect, integrate, and promote migrants and refugees, as well as the prayer that accompanies Pope Francis' Message for Migrant and Refugee Sunday 2022.
A second resource provided a summary of recent advocacy by the Australian Bishops on behalf of asylum seekers and refugees with links to the full text of public statements. 
While faith communities can join with other community groups to celebrate Refugee Week, the Catholic community will have another opportunity to focus on these issues when we celebrate Migrant and Refugee Sunday on 25 September. Further resources will be made available in advance of this date.